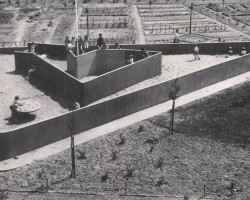 From the Germanpostwarmodern tumblr…Eduard Ludwig was a Bauhaus architect best known for his monument to the Berlin Airlift.  I couldn't find any additional information on this 1956 playground (which appears to be his only play design)  or its exact site in Berlin, which seems newly built based on the scale of the plantings.  Share if you know!
The deadline is actually TODAY, July 1, not July 6 as previously posted.   Apologies for the error.
There's still time (but only just, so hurry!) to share a play space project of your own—temporary or permanent, large or small, built or unbuilt—that can be an inspiring model for future play spaces!
The Community Design Collaborative and Delaware Valley Association for the Education of Young Children are hosting a fun, new exhibition to highlight international best practices in the design of outdoor play spaces. How We Play will be on display from at the Center for Architecture in Philadelphia from August 5 through September 25, 2015.
They invite nonprofit organizations, public agencies, artists, and architecture, landscape architecture, engineering, and planning firms to submit projects.  Go here to learn more and submit a short project description and image.
Exhibitors will be selected by July 6th and receive two complimentary tickets per project for a reception on September 10th.
Norwegian architectural firm Helen and Hard are best known, in the playground world, for their innovative Geopark, which references the oilfield history of Stavanger in both its recycled materials and its geologic forms.  They're doing something different at a new housing development in Sola:  weaving small, more naturalized playscapes throughout the development space, as connections between 'yards' based on the spatial organization of the old farms in their region.
Rather than building a centralized playground as 'destination' in the development, Helen and Hard have taken a 'play-as-path' approach.   The play-as-path concept–in which play spaces and play features are constructed around, and intersect with, walkways–allows kids to engage with the space either in a focused fashion or simply along their way, by hopping on a stone wall as they pass by, for example.   Attaching the play to the path rather than isolating it in its own space allows grown-ups to supervise the playground in a way that is casual, rather than intrusive, since the walkways are regularly in use.  And the concept is money and space-efficient as well; allowing bike-riding, running, and hopscotch to spill over onto walkways that would have been constructed anyway.
If you're building a playground, think carefully about how it can be constructed in conjunction with path.  And if you're building a path in any outdoor space, think about how it can be integrated with play!
If you're making a playground, don't forget to make the ground plane itself as playful as possible!  It is the surface that the kids will touch the most, and to neglect it by just pouring out safety surfacing or mulch or gravel is to miss a wealth of play opportunities.   One of the Playscapes mantras is, of course, playgrounds-should-not-be-flat,  but sometimes altering an existing flat surface isn't an option; particularly when urban schoolyards must double as parking lots and sports fields.  At a series of schools across Quebec the Montreal firm NIP Paysage energized schoolyards with lively painted markings that went well beyond the standard paint schemes of hopscotch and world maps.   They intervened only lightly with the ground plane, adding some boulders, log benches and tilted facets in smaller areas that don't interfere with the schoolyard 'flat-use' needs.  Even if all you have is an flat, asphalt schoolyard, be inspired by these examples to make it as playful as possible!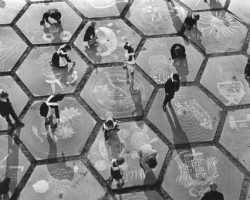 Also from the former USSR, this 1960 photo entitled "The Orange Sun" by Anatoly Khrupov, of children making chalk drawings on a ground surface of hexagons.  I can't tell if they're intentional chalkboards or just massive concrete pavers, but it's beautiful and I'd like to see this on a playground again. [via]
I love the variation of swings between cultures, and I've never seen one quite like this wooden-armed version, photographed by Michael Golosovskiy in 1977. [via]
In addition to museums and public spaces commissioning playful installations, there are a wealth of play and play history-focused exhibitions and symposiums this summer as well.  Act fast to take advantage of the Van Alen Institute's exploration of the network of play spaces that serve as 'hangouts' for New Yorkers, because TOMORROW, Saturday June 13 includes three exciting events within the theme of "In the Park" focusing on the questions of
What can we learn from play spaces of the past? (11-1, Central Park)
How do we connect with nature in the city? (1:30-2:30, Central Park)
Is play just for children? (4-5:30, Van Alen Institute)
Paige's Note:  Rounding out our set of play-enlivening-public-spaces this week is the recent installation of Pentalum at Boston's Lawn on D.  And here to describe it is Chris Wangro–who started off in the circus and wound up producing the likes of Mick Jagger and the pope.  He's one of the most playful people I know (and one of the only people who instantly got my references to Ant Farm), and has a unique perspective on the use of play in public space.  What would it be like  if even our more traditional and static playground spaces could be imbued with the beauty, awe, and exploration of the Pentalum?  I can tell you…they'd be more active spaces, more energized spaces, building community for kids and adults alike.  They'd be packed with people all the time, and they would absolutely compete with the digital world for a child's attention.  Here's Chris:  
Entering the Pentalum is like falling down a rabbit hole, one is instantly transported to another world. It is a place that surprises and tweaks your senses. The Pentalum took Boston by storm this month; in a four-day showing it created something of a media and social media frenzy, not to mention four-hour lines in the rain.
Full disclosure; I wear the Creative Director/Programmer/Impresario hat for Boston's Lawn on D. As readers of your blog might know, the Lawn on D is a new and experimental park/event space in South Boston. The space is 2.7 acres and has become a hotspot for arts and events. My favorite review of the space comes from a leading blog for Boston culture, Bostinno: "Finally Boston has a playground for adults". Music to my ears.
The LOD was built as a temporary space, it is a nice open green space but relatively featureless. Our first big step towards enlivening the space was to commission a major piece of public art. We wanted this work to become an icon for the space and draw people to this new and unknown spot, but more – I wanted the commission to be light-hearted and playful to help define the venue as a place that should be enjoyed, actively, by all. The result was "Swing Time" designed by the immensely talented team at Howeler Yoon; it is a dynamic, interactive, tech-forward swing-set that quickly became one of Boston's most popular pieces of public art. It was a tough act to follow but the success of this large scale play sculpture paved the way for the Pentalum.
On May 28 we opened the doors to the Pentalum, an extraordinary folly created by Alan Parkinson and the Architects of Air. Describing the Pentalum is difficult because the impact is visceral and emotional. The pneumatic structure is vast – and scale here is important – the footprint in Boston took up the better part of an acre. The exterior is impressive but also misleading; it looks a bit like a Nintendo-influenced bouncy house on steroids, it's eye-catching, fun & formidable but not what the experience is all about. The fun starts when you step inside…
Having the ability to observe people streaming through the Pentalum over the course of several days I noted a few things, first – pretty much everyone despite their age, the heat inside, the long wait to get in, was instantly smiling, if not laughing out loud. The Pentalum creates awe and wonder. The space is also disorienting, its organically shaped tunnels twist and turn in ways that are hard to understand and so the visitor becomes explorer. Being an explorer is exciting and rewarding. I think this is part of the secret to the transformational nature of the experience. The thing is also beautiful.  Natural sunlight filters through opaque colored panels and becomes magnified on reflective silver walls that make the interior one big dazzling glow. It overwhelms the senses. Finally, everything is soft (it's an inflatable after all), people bounce off the walls, lay down everywhere and bask in a place that is gentle and other.
I offer these pictures from my mobile, which brings me to one important note; the most common reaction for visitors no matter race, creed, age, etc., was to whip out their phones and get busy. I'd venture that out of the thousands that passed through, no more than a handful went through without taking pictures selfies/Instagramming/Skyping/Facebooking/Flickring/Tweeting/Vineing. Although Alan began designing the Luminaria two decades ago – long before the age of self(ie), documenting and transmitting the experience is now one with the experience. I leave that as an observation and keep critical thought aside, but there's no denying that the creative act of making the moment digital is now part of the play.
Last year artist Argentinian artist Marta Minujin filled the Palais Royal in Paris with 70 hopscotch games in her signature style of brightly colored stripes.  The three day installation–whose opening was accompanied by strolling saxophonists–honored, in the most playful of fashions,the 100th birthday Argentine novelist Julio Cortazar, whose novel Rayuela (Hopscotch) was set in Paris.
It is so exciting to see the increasing focus of museums and public spaces on play…I'll be featuring several today.  Following on last year's successful installation of Mi Casa Su Casa–an array of red hammock houses–Atlanta's High Museum commissioned the same artists for a gorgeous new installation of interactive spinning tops.  Contemporary Mexican designers Héctor Esrawe and Ignacio Cadena used flat nylon rope woven in a traditional Mexican style to make the carousels, which visitors can work together to spin.  The High Museum is using the best possible medium–play– to "activate the outdoor space and engage visitors" and "explore how engagement with art and design can extend beyond the museum's walls through dynamic installations".  It has been an huge success…so much so that there are plans to expand the installation into seven locations in Midtown Atlanta.
In a lecture I gave last year at Site Gallery I talked about "Play without Ground"…what it looks like to break  'play' away from a real-estate based definition of *where* play is allowed to happen, to broaden the word playground to include more locations and also more timescales–ranging from ephemeral to permanent.  Museums and other public urban spaces are really leading the way in making 'playground' mean an event, an action, a happening, even a lifestyle–so much more than just a place.   And that is great progress for play!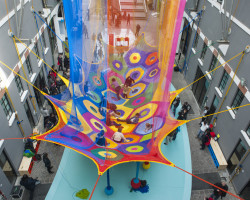 Ohmyearsandwhiskers, not only is the beautiful "Harmonic Motion" net playscape by Toshiko and Charles MacAdam, lately in Rome, now in residence at the Toledo, Ohio Museum of Art as part of their Play-Time exhibition (until September 6), but you can also attend a hands-on workshop with Toshiko herself on June 21 only.  Sign-up now to meet a true star in the crown of play design!
To encourage physical activity in London's Borough of Camden, erect architecture and Wayward have designed a series of active, adventurous places for Camden schools.  I'm particularly pleased to see that for this project they've partnered with University College London's sports scientists to conduct a study that "monitors any change in pupil activity levels before and after the installation of the new active spaces. This will provide important data for understanding the drivers for physical activity."
Since I am a scientist in 'real-life', I'm continually amazed at the lack of real data surrounding playgrounds, particularly data that helps understand what type of spaces and constructions actually drive physical activity.  I'm as excited to see the results of these studies as I am to see more of erect architecture and Wayward's great work!
From the  erect architecture website:  "The London Borough of Camden has one of the worst childhood obesity rates in London, with a third of all ten year olds being classed as overweight or obese.  Camden Active Spaces project is a ground-breaking initiative to deliver challenging and intriguing active spaces to several Camden schools with the specific goal of increasing pupils' physical activity levels as a preventative healthcare initiative. erect architecture with Wayward engaged in thorough consultation with pupils, teachers and parents to target the most inactive user groups and inform each unique design. Together with pupils narratives were developed for the active landscapes to draw in inherently less active or confident children through games of imagining and roleplay. "
At Torriano Juniors School the Earthling kingdom nestles in a landscape of mounds into which an earthquake ripped climbable crevices. Earthlings explore the overgrown ruined city, which has fallen into their landscape as they move around a wide variety of routes. "
The Torriano Infants School playground has become the cloud kingdom. Cloud creatures emerge from a dense undergrowth, bounce from one trampoline cloud to another and scale up into the sky in the white cloud climbing structure.  
The Carlton Primary School playground has been settled by a new community. Its rapid growth has resulted in a vibrant collection of overlapping dwellings that form a complex urban landscape that its inhabitants must navigate every day.
At Acland Burghley Secondary School we explored the students' relationship with ignored objects across the playground. The picnic lawn is a subversion of the only exiting feature in their existing playgrounds – the picnic bench. It is enlarged, stacked and distorted to create a parkour and climbing landscape."  
I never tire of the work of Spanish collective Basurama, whose practice "revolves around the reflection of trash, waste and reuse in all its formats and possible meanings". In addition to the public space installations previously featured here at Playscapes (see Ghost Train Park, the Park for Playing and Thinking, and Equipamentos Extraordinarios), they have also constructed a series of "self-made playgrounds", reconfiguring whatever materials they find available in the local setting into playful–and visually arresting–designs.   Like TYIN Tegnestue, for example, Basurama distinguishes themselves from other charitable providers by an attention to aesthetics that credits its clients with appreciating both play AND design.
For an orphanage in Addis Abada, Ethiopia, Basurama used discarded scrap metal from old swingsets, cribs and beds to make bright yellow ladders and hexagons and covered them with pallets for climbing.  Note the nice details of a sun shade made from billboard advertisements and the chalkboard backing on the lower hexagons!  In Maputo, Mozambique they enlivened the dusty schoolyard with large geometric pallet-houses and smaller elements community-built from car tires recovered in the surrounding neighborhood. And in Malabo, Equatorial New Guinea they appropriated the streetscape around a spreading mango tree with a temporary playground of more pallets and plastic drink crates to make a climbable, sittable, suspended garden.
These ideas aren't just for the developing world!  We could do a whole lot more repurposing and reusing on 'first-world' playgrounds, too. Let Basumrama inspire you.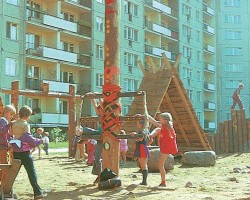 For #TBT I was excited to learn that the midcentury "Indian Playground" constructed for a Polish high-rise housing estate was rebuilt for a design festival from remaining photographs and resident's memories.  Only temporary alas, but it is wonderful to think of this lost playground being found again.  I'd love to see more festival re-creations of vintage play elements and sites!  Get the entire story from Playscapes' correspondent in Poland, Anna Komorowska.