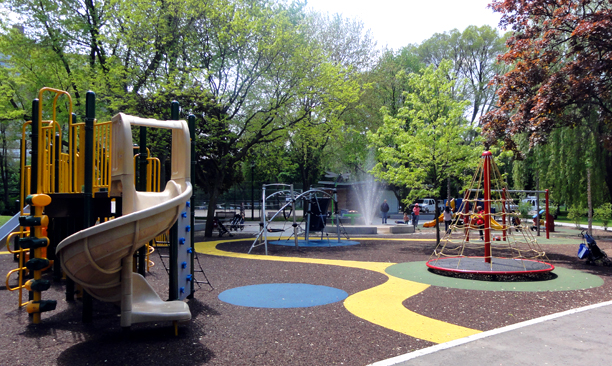 All children deserve to play.  Unfortunately, most playground designs physically exclude certain kids from playgrounds.  The materials used, construction, and/or topography (i.e., elevations) can be barriers to childhood fun.

After years of fundraising, Neshama Playground officially opened in the summer of 2012.  It is Toronto's first playground conceived for all children and advocates a 'zero rejection policy,' where no one is left out because of a disability.  Neshama Playground includes a water play area, bounce pad, an enclosed merry-go-round, musical elements for children with autism, and panels with Braille for the visually-impaired and sign language diagrams for the hearing-impaired.  There is also a swing and other play equipment specifically for kids in wheelchairs – as well as colourful, springy surfaces.  This type of ground covering is soft, but solid, and facilitates wheelchair movement.  The Lieutenant Governor of Ontario, who was present during the ceremonial opening of Neshama Playground, mentioned that he was thrilled to take part in the celebration.  In the words of the Lieutenant, David C. Onley: "Play is an important aspect of every child's life, and this playground will ensure that children with disabilities are able to enjoy the fun offered by its many charms." (City of Toronto, 2012)  His statement is even more inspiring and meaningful since Onley, himself, uses a wheelchair.

Not only does Neshama Playground allow every child to freely be a child, it also educates young ones about diversity: in functionality (mental, physical, and sensory abilities), modes of communication, etc.  It represents Toronto's acknowledgement that the individual needs of children range considerably and its commitment to address this.  "Neshama Playground in Oriole Park is the first of its kind in Toronto and is consistent with the City's policy direction for universal accessibility." (City of Toronto, 2012)  Ideally, other local governments have similar strategies regarding playground implementation.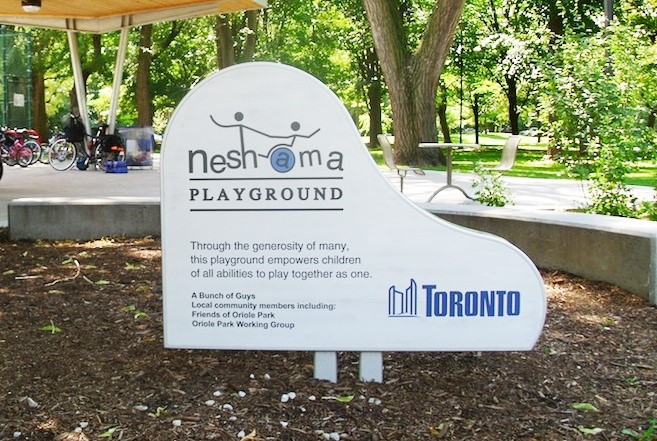 Comments are closed.