Everyone at the Ithaca Day of Play conference could feel it: The play revolution is underway, and it's powered as much by the joy of seeing children follow their instincts as it is by dissatisfaction with sterile play offerings. I was invigorated by the gathering of playworkers, educators, researchers, and designers, held on October 11. I'll tell you all about the Anarchy Zone, one of a handful of adventure playgrounds in the US, but first, three take-home messages from the conference:
Permission is scalable. Adults can create space (physically, legally, and by training caregivers) where children can take reasonable risks and change their surroundings. The space can be as small-scale as a preschool that places milk crates in its play yard, or as large-scale as a fenced-off block where professional playworkers guide shelter construction with real tools. Erin Davis showed an exhilarating clip from her forthcoming documentary about The Land, an adventure playground in Wales where children use tools and fire. That doesn't mean that every playscape has to be completely built by children or offer fire as an option. There isn't a right way to do it, but there is a right question to ask: Am I creating an open environment for child-directed play?
Liability isn't a big hurdle. Several conference presenters had spent a lot of time talking to adventure playground administrators in the US and abroad, and the insurance companies who cover them. Most are simply insured under existing policies for nonprofits or municipalities. Pop-up play spaces can be covered by temporary insurance relatively easily. Fear has paralyzed us, but it shouldn't.
Spend less on design and more on staff. As an aspiring landscape architect, this is hard for me to grapple with, but the spaces that allow the most valuable play experiences have what Rusty Keeler calls "anti-design design." It's infrastructure, not precious objects. Landscape architect Joy Kuebler put it this way: if Olmsted's goal was to fool people into thinking a designed landscape had always looked like a pastoral idyll, playscape designers can take one more step back, creating the illusion that the setting and raw materials for high-quality play just "happened." Meanwhile, hiring and training playworkers should be seen as a necessity, not as a luxury. For an excellent resource on playwork, check out The Playwork Primer.
The Hands-on-Nature Anarchy Zone sits within the Ithaca Children's Garden, which itself sits within a city park. About a quarter acre in size, the Anarchy Zone's dominant features are dirt berms and hills that are mostly covered in emergent vegetation (known by some as weeds). Below, willow shoots are being encouraged to grow in an arch.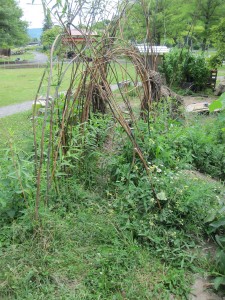 A mud pit is hugely popular for obstacle courses and other play. It's the site of an annual celebration, International Mud Day. This video from 2012 really captures it, and gives you a feel for what the Anarchy Zone was at its start: big piles of dirt. It hasn't progressed much beyond that in terms of design, and that's what makes it so magnificent.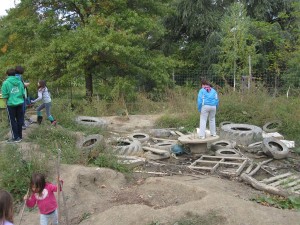 Thanks to a partnership with the US Fish and Wildlife Service, the site receives regular truckloads of dirt, logs, and mulch. Tires, lumber, pool noodles, and fabric are among the other loose parts. In the winter, US Fish and Wildlife provides heavy equipment to move snow into giant piles for the Fire and Ice Festival.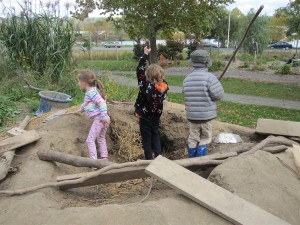 Industrial tubing, reclaimed from businesses, makes for exciting play opportunities.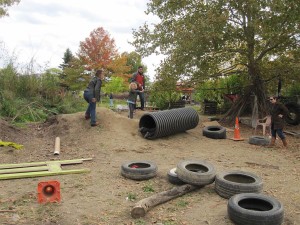 Mature plane trees on the site are important play structures; a camp session this summer had a loose theme of swings and pulleys, and many elements remain.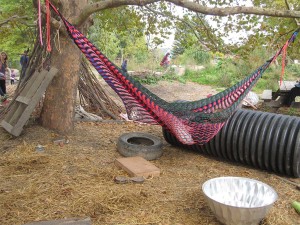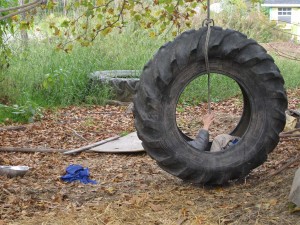 Although the site has a deer fence to protect the vegetable and perennial gardens nearby, the Anarchy Zone itself is not fenced. The border of the playscape has a 3-foot high berm planted with daylilies and tall wildflowers, an aesthetically pleasing "frame" to hide what some might see as unsightly. This screen also includes wood pallets placed upright, an economical solution for a fence.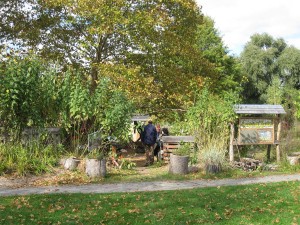 There are picnic tables under the large shade trees, and a public restroom just outside the Children's Garden. Many families pack a lunch and stay all day. Adolescents, who thrive on risky-feeling challenges, are just as happy with the Anarchy Zone as younger children. Here, the girl on the right is climbing a tree so she can ride the wooden zip line being pulled into place by the boy with the rope.
This group of kids was able to scale down the challenge when one of them was more wary of the height. Seeing this, I recalled a comment from one of the conference panelists. When asked about accessibility of adventure playgrounds, she noted that they allow kids to alter the elements to account for their peers with different physical and mental abilities. What a rich experience of inclusion; so much deeper than the idea that "every surface has been rubberized, so everyone can play."
The Anarchy Zone is separated from Ithaca's residential neighborhoods by some major roads and an inlet of Cayuga Lake, so it's more of a destination than a place you might bump into, though bike and pedestrian paths do lead directly to the site. It's open sunrise to sunset every day, and playworkers staff the site during events. One theme of the conference was how to start your own adventure playground. The Anarchy Zone had the right people at the right time, in the right place, and they started small. Artist and designer Rusty Keeler was a driving force, Morgan Leichter-Saxby provided playwork expertise, and the Ithaca Children's Garden provided physical space and organizational structure.
If you're reading this, you're probably already a part of the play revolution, but if you want to take it to the next level, or if you're fascinated by the way adventure play is evolving in the US, check out the American Association of Adventure Playgrounds.
Comments are closed.