{
Seeking artists for a climbable, playable sculpture to be part of a new playscape in Miami, Florida!  Local or Florida artists preferred, but others are welcome to submit as well.  Send me (arcadyatcoxdotnet) some information about yourself and either images or links to your work, and a quick draft concept that would fit within a roughly $80,000 total commission!  DEADLINE: SUNDAY, DECEMBER 6, 2015.
}
The international design firm HASSELL recently teamed up with non-profit Archikidz and Sydney Living Museums to create PLAY[ground], a three day destination event in the in the heart of Sydney.  A sell-out crowd visited over three days to swing, climb,  crawl, tunnel, jump and connect.  A free but ticketed event, PLAY[ground] reached capacity before the gates even opened. Six thousand people – including 4,000 children – attended over the course of the three-day installation that was part of the 2015 VIVID Sydney festival."
"The Archikidz brief called for a single playground. But, after testing early plans with a group of children, HASSELL created a collection of interactive installations to inspire different types of outdoor play. Kids were diving into multi-coloured ball pools, shimmying up ropes, and running through the maze of plants and a forest of multi-coloured ribbons made from old parachutes. Retired sailing spinnakers and timber palettes were given new life as platforms for kids to swing on, climb through, crawl under and jump off.  At the end of it all, everything was repurposed, returned or recycled – accomplishing the ultimate low cost, low impact event at the heritage-listed barracks."
Great design and great fun, of course, but I love that the goals of this project went beyond "just" play.  The team wanted to "make kids seen and heart in the city", and in so doing inspire city makers to think creatively about the future of cities:  what makes them great, and what makes them playable.   Too many play advocates just wave their hands vaguely and cry "let the children play!"  But more rigorous and expansive thinking is required to build a playful future, to see play as both an end in itself AND a means that helps us understand and build community.
"The program for PLAY[ground] included a number of free workshops about city-making and the built environment. Kids, families and friends immersed themselves in green wall workshops with specialists, Junglefy, drew their visions for the future city, and experimented with new ways of travelling through the city with parkour lessons.
Kids shared their thoughts about how they would make cities more liveable and fun in the HASSELL 'Little House: Big ideas' – a wooden cubby house in the middle of PLAY[ground]. While there were plenty of references to jet packs and robots, many kids spoke about the importance of green space, how living in an apartment allows you to make the most of the city, and new types of environmentally-friendly transport they would like to see 'when they grow up'.
"The legacy of PLAY[ground] lives on…the green wall created by Junglefy with hundreds of kids and their parents will be installed in its permanent location at Ultimo Community Centre very soon. The parkour equipment has a new home at Pyrmont Community Centre, and will soon become a new location for the boys from Jump Squad HQ to run parkour workshops."
Collaborators: Archikidz, Sydney Living Museums, Junglefy, Andreasens Green, Design Landscape, Innov8 Access, JumpSquad, Imprint Acoustics
Photography: James Horan, Vin Rathod, HASSELL
Paige's Note:  As I try to again ease back into posting after an intensive focus on my other life in science (aka, the Alternate Universe), I'm pleased to present Susan Solomon's latest After the Deadline column with thoughts on the Superkilen: a rebellious public space in best-city-for-play Copenhagen.  I've never featured it on the blog, not because I didn't know about it, but because I doubted it.  It's undeniably photogenic (and I was excited to see a Japanese play octopus, one of the first sculptural pieces I featured on Playscapes)  but I wondered whether the self-conscious settings translated to a good experience on the ground for either pedestrians or players.  I've never had the opportunity to visit, but Susan Solomon has, and her analysis confirms my concerns that this playful public space was designed more for visual effect than for visitor experience; a disservice to the residents it was supposed to serve.  And it is of historical interest to me that Superkilen's heavy-handed, top-down design approach was implemented in a neighborhood that once fought a losing "playground war"  to retain a self-built, community constructed adventure playground.  Times have clearly changed.  
Lessons from Superkilen, Copenhagen, by Susan G. Solomon
I worry about public space that is captured in images that are "too good to be true."  Such is the case with Superkilen, an urban linear park in Copenhagen.  And like the old adage, the on-the-ground experience is not as good as the photos.   When I saw it this past summer, I came away thinking that Superkilen is a wonderfully photogenic one-kilometer long stretch, one that sadly does not live up to its promise. It's a pity the results are not more positive because millions of people are already familiar with it (they might not know its name) thanks to an iPhone ad that placed it on magazine covers and billboards this past spring. Readers might remember the dramatic images of white squiggly lines on an undulating black surface.  The cost of Superkilen- over $8 million-compounds my feeling of unease.
The results are all the more dispiriting because heartfelt intentions underlay the Superkilen concept.  It represents a potent belief that design can ameliorate social shortcomings and foster community.   Creating Superkilen was an attempt to improve the everyday life of newcomers who have arrived in Copenhagen over the past decade.  Many are poor and live jammed together in the roughest area of the city, Nørrebro  (although to American eyes this neighborhood appears much more benign than inner cities in the USA and there is at least one street, previously notorious for killings and crime, which now hosts upscale restaurants). Superkilen was introduced as a respite space, a series of outdoor hubs where local residents could gather. Read more…
I've never been a fan of the "bouncy castle" genre of temporary play installations, so it's exciting to see the new company PneuHaus (founded in 2013 by designers Matthew Muller and August Lehrecke) re-interpreting the playable inflatable by draping two types of nets– loosely woven for climbing and tightly woven for sitting–over giant air-filled columns.  It's Burning Man, so grown-ups at play, but I'd love to see kids get a chance at this Playascape.
Also don't miss their Pneumatic Masonry (last 2 photos), which is like a temporary, air-filled version of the bubble climbers of Peter Pearce from the 1970s and 1980s.   Very interesting ideas here…I'll be watching, PneuHaus! (and thanks to Chris for the tip!)
Basurama Brasil's latest playful resurrection of recyclables is open for play at the Casa Daros Museum Rio, "for children under 99 years old"!  Reminiscent of the Lions' Park playscape by Rural Studio in Alabama,  it takes oil barrel-based construction a bit further by enlivening a selection of 200 of them with punchy colors and creative patterns, and adding tent-like roofs made from obsolete museum banners by Argentinian artist Fabian Marcaccio.   I love the addition of nets, too,  which are such an easy way to make any self-constructed playscape even more playable.  If you are so lucky as to be in Rio, you can visit and play until November 15th.
One of those delightful Gartenschau playgrounds is the "Lizard Country" constructed by ZimmerObst in Rathenow, Germany for one of the 2015 BUGA regional shows.  ZimmerObst (apologies in advance for the low-res photos from their website)  were responsible for construction on the previously posted Modern Castle Playground in Zulpich, and they've used similar faceting to add to the playability of the lizard's body in this install.   Lizards, snakes and dragons are no stranger to the playground, but I particularly like how this design allows the creature's body to essentially become the *entire* playscape, rather than just one element in it, as it bends and twists throughout the playable space.    The lizard's tongue is a slide, and its tail has jets of water.  At points where it's body appears to dip above or beneath the sand (note:  NOT rubber safety surfacing), rope and bridge features add climbable connectivity.
One of the best things about the garden show tradition in Germany is that the playgrounds constructed for the show generally stay in place, becoming a permanent addition to the landscape of the host city.  It's a great overlap of interests between private capital and public works:  the garden show gets a crowd-pleasing, audience-increasing feature for the duration of the show (sometimes as long as 6 months), and the municipality gets a high-quality, design-focused playscape ever after.  If any of my Deutsch readers can tell me how the financing of this works, I'd love to know more.
For #TBT, a couple of images from a trippy, futuristic playground installed at a garden show in Vienna Austria in 1974 that seems to combine a playhouse/slide with a boatable lake! Note also the playscape of rounded white hills in the background. I could find very little information on this playscape (do get in touch if you know more), but I came across it while doing some research into Germany's spectacular tradition of garden shows. I'm coming to the conclusion that one of the factors in the advanced development of the playground art in Germany and nearby countries is the importance of these shows, and the inclusion of large playgrounds in them. Innovative designs are displayed every year and visited by tens of thousands of professionals and parents alike, thus disseminating new ideas and high standards for design throughout the country. There is no equivalent tradition here in the United States. Watch for more from the great Gartenschauen over the next few weeks!
Today's post is a mashup of ThrowbackThursday and PlaySculptureSaturday, but that's too long for a hashtag!  Thanks to reader Mark for sending me the link to this intriguing piece of recent play history:  the first time parkour was featured on television in 1997.  Beginning at :053, the clip shows the runners scaling Pierre Szekely's monumental Dame du Lac sculpture between Evry and Courcouronnes, considered by many to be the birthplace of the new play sport.   Szekely completed the sculpture in 1975, incorporating many of the ideas he had worked out in smaller play sculpture installations (see this previous Playscapes post on his work).  Though the invention of Parkour was still years away, the forms of his sculpture seem to have perfectly anticipate the free form running-climbing-jumping-swinging that would be adopted on the site, and spread eventually throughout the world, including to other sculpted landscapes like those of Lawrence Halprin in the United States.  So is Pierre Szekely the real father of Parkour?  A playful question to ponder on your Saturday.
The working title of the book I'm writing for Norton about the cultural history of the garden (if I can ever finish it in between the nanotechnology and the business deals!) is The Literate Garden, and so when the nice folks at Monstrum sent me a description of their latest installation The Literate Playground immediately came to mind.
I love that this playscape is attached to Scandinavia's largest library, and that it represents in its own way a collection of knowledge:  five play spaces organized as a  'Kloden' (globe) along compass directions for specific locations around the world, with giant creatures (Monstrum's biggest ever!) that tell the wonderful stories of each place. Each of the five playscapes "contains small fragments and stories about nature, animals, landscapes, geology, culture and much more. The aim is to inspire, arouse children's and adults' knowledge desire while creating space and opportunity for play and exercise."
I will just offer the wee criticism that the playscape has far too much safety surfacing for my taste.  Though I understand its low-maintenance and clean-lined appeal in a public space like the one around this library, I sincerely hope that Denmark, with its historical acceptance of risk to achieve the reward of great play, isn't adopting the over-regulation of surfaces that plagues playgrounds in America.  Push back, Denmark!
Also of interest is that the project was funded by the Herman Salling Foundation. This is part of a worldwide trend I'm seeing in which the most innovative and ambitious playgrounds are increasingly funded by foundations who are willing to take design risks that municipalities will not.   For a long time, foundations seemed more interested in playground quantity than in quality, and they often funded formulaic manufactured solutions.   Naturally, I am pleased as punch to see this change!
Also from RMP Stephan Lenzen Landscape Architects is this thoughtful concatenation of play with garden and architecture in a pavilion designed to display the environment of North Rhine-Westphalia at a Dutch garden show.  Over the last fifty years or so western culture has largely restricted play to the designated real estate known as the "playground".  So when re-integrating play into other public spaces–public squares, sidewalks, exhibition spaces–it is often necessary to add cues to say "play is welcome here!".    Lenzen's architectonic interpretation of hills and valleys  is quite playable just on its own, but the addition of chalk-drawing panels, climbing walls, and bean bags–all in bright red–*invites*  children to play in a way that the wooden planes on their own would not.   If you're designing playable elements outside of a traditional playground space, think about adding cues to give the public–adults and children alike–permission to play there.  Without them, you may find your playscape–no matter how thoughtful–lacking in players!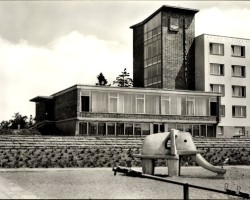 And adding to our collection of playful pachyderms is this German example; providing  unexpected whimsy in front of a severe modernist housing block in midcentury Mirow, Germany.  [source]
Aaaand I'm back from the land of voting agreements and dilution formulas to the happier place of playgrounds…thanks for waiting! I talk alot here at Playscapes about the fact that playgrounds should be local:  they should relate uniquely to their site and their community.   But I really like the fact that this new castle playground installed in 2014 in Zulpich Germany didn't attempt to directly compete with the turrets and battlements of the REAL castle just behind it.  Instead,  RMP Stephan Lenzen Landscape Architects used an reinterpretation of the castle:  a series of faceted forts set in a traditional defensive circle that kids can range about, through and on via ramps and ropes and climbing walls.  The red and white flag-like accents bring just enough color and visual appeal to accent the precise, modernist wood construction.  Note that two of the forts rise higher than the others and a gap between them draws children into the open center 'bailey' just like a traditional castle gate does (visible in the background of the photo with the swing).  The bailey–indeed the entire ground plane of the playscape–is covered in tons (literally) of sand, the original playground material.  And no safety surfacing in sight, yay!
Paige's Note:  As I'm working to close an investment deal at the moment, I'm reminded of how great it is to have Susan Solomon's columns as a part of Playscapes.  Not just because it helps me fill in the posting gaps when my own schedule reaches its overstretched limits(!), but also because her insight into the American playground scene is erudite, historically informed, and unsurpassed.  In today's 'After the Deadline' column, she touches on an issue that is a thorn in both our sides–discussions of 'Nature Play'  and 'Natural Playgrounds' as if such a thing has just been invented…and by Americans of course!  No, not so.  Nature play and natural playgrounds as a formal idea began in the 19th century, and were strongly emphasized by philanthropists in the 1920s and 1930s concerned about children in cities (they didn't call it a 'nature deficit', but much of the rhetoric is the same), then taken up again in the back-to-nature movement of the 1970s.   Most recently, beautiful natural playgrounds were being installed in Europe by dedicated and thoughtful practitioners like Helle Nebelong, well before the johnny-come-lately Americans began waving the 'natural' flag.  Europeans still exceed us in the development of the natural playground art, largely because they have avoided the death-grip of overzealous safety guidelines that restricts play here in America.   I'm glad to see the increased emphasis on nature play in the United States, but anyone who tries to lay claim to originality either doesn't know their playground history, or is simply unwilling to acknowledge those on whose shoulders they stand.  
The Nature of Nature, by Susan G. Solomon
Taking a cue from Richard Louv, I suggest that we consider "Nature Design Deficiency."  Nature playgrounds in the US usually have to be constructed– albeit that that is an oxymoron- or they can be naturally wild areas where the kids are left to be on their own. So far, we haven't done a particularly good job with the former and we rarely see evidence of the latter.
See recently on a visit to London, this gentle, hilly playscape with with artisan-carved additions for turtles and fish.  Billed as a community space rather than explicitly a playground, this simple intervention provides great play and picnic value in a small, gardenesque space:  a much better choice than installing ugly safety surfacing and a set of poles and platforms equipment.  Remember that the best place to begin any small play installation is with a hill:  playgroundsshouldnotbeflat!   This playscape is fenced, which I generally oppose, but its position along the Thames and the need to keep the area free from dogs make fencing a reasonable choice here.   By Groundwork London.  More from London in the next few posts, and see other turtle-hills in this past post.