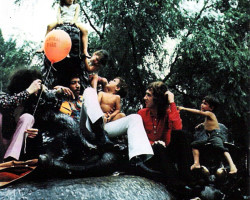 Even though it's properly a sculpture, the Alice in Wonderland statue in NYC's Central Park is essentially used as a play feature:  every time I visit there are 20 or so kids climbing up the rabbit and hiding under the mushrooms.  It was thus in the 1970s too, when Linda Eastman (soon to be McCartney) took some rather sweet photos of Jimi Hendrix and band and kids draped over the statue.   The playful images were his choice for the cover of Electric Ladyland, though the record label overruled him and picked something quite…different.  And now our count of playgrounds-on-vintage-rock-album-covers stands at 2.  [see the other one here]
As part of a grand project revitalizing the interior of Schwäbisch Gmünd, Germany, A24 Landschaft designed a "Netzvilla"; a house of nets nearly 8 meters high, with an escape slide, of course.  Reminiscent of the temporary play installations of Numen, the house of nets also reminds me of the Wallholla 'wall of play' by the Netherlands' Carve, which soaks up as many as 60 kids within a small footprint.  Both of these room-like designs construct playable space within a defined architectural frame,  a great option for urban locations with space constraints.
As if in answer to my plea of "why can't playgrounds be more beautiful?" up springs a kaleidoscopic basketball court in the ninth arrondissement of Paris.  At 22 rue Duperré, in the Pigalle neighborhood, an existing court tucked between two buildings has been overhauled due to the advocacy of Stéphane Ashpool, creator of the Pigalle fashion brand and committed basketball player, with funds from Nike.
My first thought was of Mondrian, but according to the project's artistic director, Subreville Thomas at Ill Studio it's actually inspired by the Russian  constructivist artist Malevich and his images of athletes.
Art and Play and Urban Reinvention all at once…great inspiration for the movement to appropriate urban alleyways and vacant lots for play!
[source, and thanks to Chris for the tip!]
"They were just there one Monday morning."
Defying the usual norms of consultation, artist Ronan McCrea "purposefully did not mediate or discuss…or identify the markings as being anything in particular (particularly as being art)", when he filled the drab asphalt play yard of a Dublin school with circles and arcs.
"The markings do not signify any game or sporting code, but are used by the children in their own play they invent for themselves everyday. Some circles are very large in diameter and extend into other tarmac areas of the school property such as the car park. Some are so large that in one's imagination the circumference extends beyond the school property and into the hinterland of the neighborhood.
In some subliminal way the circles are linked in the artist's mind with the image of childhood, education and ego from Joyce's bildungsroman, Portrait of an Artist as a Young Man:
"Stephen turned to the flyleaf of the geography book and read what had been written there himself, his name and where he was:
        Stephen Dedalus
        Class of Elements
        Clongowes Wood College
        Sallins
        County Kildare
        Ireland
        Europe
        The World
        The Universe."
A second part of McCrea's project was to document the arc-activated schoolyard in use:  he fixed a camera at an elevated position before breaks and relied on the children's random movements in and out of frame to create the compositions.  The resulting photos reveal the way in which the children's play both incorporates and defies the lines and volumes traced by the arcs.
[images and text from public art ireland.  See also a discussion of McCrea's project (be prepared for lots of artspeak) at Art&Research journal.]
Some years ago I posted the most beautiful climbing wall in the world; a carved wooden orb at a preschool in Finland.  I've seen nothing since to even approach it, until Bård Breivik's KUBE sculpture in Bergen, Norway.  Its shiny, touchable surfaces attracted not just the attention of children but also their instinct to climb.  I doubt they cared that the stainless steel sculpture materialized mathematical equations, including the Doppler effect, but I very much like the idea that they were climbing on math.
Breivik would certainly welcome it; he is also the sculptor of Bergen's lovely water rills, making runoff  (drainage issues should be generally seen as an *asset* to a site) not just visible but also playful.
And I ask–for the millionth time–why playgrounds aren't more beautiful?  How would playgrounds be different if they had to qualify, like these examples, as pieces of a permanent art collection?
[Cube images by Anne Worner,  water rill image by the ever-playful Frode Svane.
The infamous Pruitt-Igoe public housing development in St. Louis installed a forward-thinking playscape of timber forms by Paul Friedberg in the 1960s,  though even a great playground couldn't overcome the political, social and economic stresses that ensured the housing complex's tragic demise.   My favorite image  is the one that shows the youthful residents appropriating the space by painting the timber blocks.  I think it's interesting that this graffiti-like intervention was 'allowed' in a low-income space; painting the playground probably wouldn't have been permitted–much less encouraged as an art project for which the housing authority donated the paint!–in a higher socioeconomic setting.
Gaby over at architekturfuerkinder has unearthed an advertisement for the Timberform constructs that proclaims the new creative playgrounds as 'life-changing' for the young residents of Pruitt-Igoe, and it reminds me that the role of playgrounds in mid-century urban regeneration schemes has remained largely unstudied.  If you're a student in need of a thesis project, do get in touch.
I'm grateful that I got to see Friedberg's Timberform playground in Central Park soon before it was demolished, see the post here, and don't forget that you can download two of his mid-century playground books–Handcrafted Playgrounds  and Play and Interplay–from the sidebar!
I really like that the new natural playground at the Garfield Park Conservatory is referred to as 'V 1.0'.  Even though in this case it means that there is a Phase 2 play project yet to be constructed, it reminds me that all constructed spaces 'as designed' are only V. 1.0, and they should welcome being changed according to the needs and desires of their users.   Too many playground 'owners'  prescribe what their users are permitted to do in the space–climb here only, slide here only, sit here only, no running, no skateboarding–and then fight back against those who want to use the space in other ways.  That's a battle in which both sides lose:  the public doesn't get their needs met and the 'owners' lose time, money, and goodwill enforcing 'rules' that actually. don't. exist.
Safety, you say?  Nope.  The goal is to channel user needs/desires into safe pathways.  Frustrating the user by ignoring their desires (say, for more adventurous, riskier play) will lead them to either ignore the space or literally to break it–unsafely–to make it work. When that happens, we shouldn't bemoan the bad behavior of the public the space was designed to serve.  Instead, we should acknowledge that the design didn't actually serve them, and try again.
As to the Garfield Conservatory playscape, I particularly like that it accomodates performativity (note the stage) and is purpose-built for flexible additions like fabric hammocks and den building and twine-tying, and that they were brave enough to put in some TALL stumps, not just the boring short ones, along with a 'very steep bridge'.  Hooray for steep!  Let's see more steep, and more V 1.0, on the playground.
In thinking about creating a more flexible playground space, I'm inspired by this installation in Harayana, India by Romi Khosla design studio [first found at habitatkid], whose panels move to create new spaces and new pathways.  A lovely idea, and very innovative for 2004!  For this type of playscape to be installed in the US or Europe the pinch points of the doors would have to be addressed, but that's an easy fix.  For more inspiration, see also the vintage Czech playground previously featured here at Playscapes.
Or what about a mylar happening at your playground?  "Shades of Jonah! I've just been inside one whale of a Happening! As part of what it calls its continuing series of environmental exhibits, the Architectural League of New York presented Les Levine's Slipcover, a 'Place,' in its ground floor gallery…'Place' is the ideal name for Slipcover, which consists of three rooms, the floors, ceilings and walls of which are covered in Mirro-Brite, a mirror finished metalized polyester film…The Telegram, April 22, 1967."    Note the emphasis on making 'place', something playground makers often forget in favor of making 'stuff'.  Levine's acrylic bubble sculptures  (1967) also provide scope for the playful imagination.  Both were enjoyed by both children AND grown-ups.  [source]
For the last year, installations of playful art at the Lawn on D have been killing it.
The digitally lyrical Swing Time, the  chromatic immersion of Pentalum, and most recently the giant inflatable bunnies by Australian artist Amanda Parer have drawn multi-generational crowds into a bleak convention district to smile and dance and laugh; and at the same time completely transformed the public art conversation in Boston.
This past weekend, the inimitable team of Chris Wangro and his co-conspirators at Industria Creative extended the public art spectrum from play-ful to full-on play-able (revelers running at full-tilt into the inflatable bunnies don't properly count), with Boston's first Play-Day. The Lawn on D bills itself as a 'Lab for Art', and on Saturday it became a 'Lab for Play'; testing installation concepts and playful interactivity with mash-ups of hopscotch and drawing, lounge furniture and bouncy balls, traffic cones and pool noodles, tubes and tapes, light and sound.  Inside the cloud of a graffitied white parachute, strangers were instantly friends.  And it was grand.
Since I started writing about spaces for play seven years ago my interests have broadened significantly, from initial concerns over ugly and boring permanent playgrounds (those are now improving)  to a desire to understand the wider connections between play and art and place and people.
If you're at all engaged with making or planning a space for play, I hope you're keenly aware that you have the opportunity to create a space for community, using the medium of play.   Doing that well requires thinking beyond the installation of 'stuff', and it is a task that doesn't end with construction.  Play-makers need to think deeply about programming playable space.
You don't have to have the Lawn's budget.  What if you invited your community to reimagine the playground nearest you by covering it with that simplest of inflatables:  the balloon?  Or added sails of stretch fabric inspired by Virginia Melnyk's Sail Boxes?  How fun would it be for the kids to wrap the entire structure in a plastic tape tangle?  Or add LEDs to the swings, just for an evening?
How do we design playgrounds so that they're flexible and stageable for temporary design interventions and new kinds of play?  How do we ensure that public spaces for play are made for people to be together, not just sitting apart on a loose collection of park benches facing a pile of plastic equipment?
Take a lesson from the Lawn on D about the power of spectacle, the need for humor (playgrounds are often strangely devoid of humor) and the way time-limited, temporary installations keep drawing people outside of their private spaces to participate in community because they know that something in the public space will be fresh and new and fun.   That's what I've learned from the Lawn on D.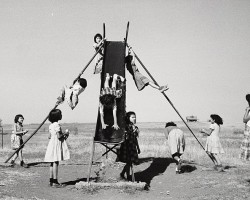 On this #ThrowbackThursday I am absolutely enchanted by the geometry of metal slide and human form in this 1953 photograph by Arthur Lavine, who is best known as the official photographer for Chase Manhattan Bank. I'm not sure how he ended up in Marty, South Dakota for this shot in which the playground slide (he called it a 'sliding board', which is interesting) is the tallest thing on the prairie. [from SFMOMA]
An interesting aspect of new playground patronage systems are the playspaces designed by large corporations as part of the visitor experience.  These can be virtually unlimited in both budget and design conception, as the "Mobiversum" of  Volkswagon proves.   It's certainly not unusual for business to install playgrounds…but they're usually rather boring holding pens. I'm now seeing a trend of design-focused corporations selecting bespoke play installations as carefully as they would their lobby art.
Swarovski, for example, hired Norwegian design practice Snøhetta to add play spaces to their "Crystal Worlds", which has become one of Austria's most popular tourist destinations.  Snohetta used a playable roof that undulates for sliding, extending from outside into the interior of a faceted play tower filled with nets, crystalline climbers, and a beautiful assembly of close hung swings. (I've been longing to see clustered swings in a playscape ever since I posted Lea Lim's Silence installation, so thank you Snøhetta!)
These new corporate landscapes are a real "win" for the playground conversation–encouraging both practitioners and the public to see spaces for play as artistic and beautiful and worthy of serious design attention.   They're generally multi-generational; designed to appeal to a broad age range rather than 'just' children, as more public playgrounds should be.  And corporate playground patrons are willing to take risks in design and form and yes, money, that specifiers of municipal public spaces just can't.  High-style corporate playgrounds are a great trend that will help push playgrounds toward new ideas, and I welcome that.
[images via Swarovski and Snøhetta]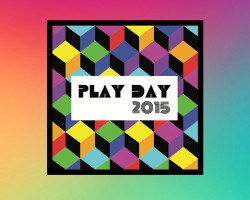 Mark your calendar for Play-Day at the Lawn on D THIS SATURDAY from noon to 5 pm! Come play on installations by the Boston Children's Museum and the Museum of Science, as well as rising design stars such as IK Studio, Virginia Melnyk and helloeverything, along with works by San Francisco-based Rebar Group, one of the pioneers in the field of creative play.   I'll be there, so if you see me, do say hello!