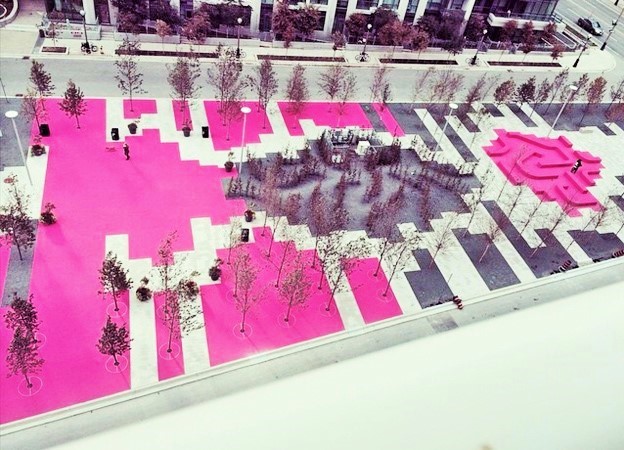 A joyful, $2.6-million space is sandwiched between condos in Toronto's waterfront district.  Designed by gh3, this urban park was named after Canadian journalist, radio/television host, and activist June Callwood, who (co-)founded over 50 social aid organizations that challenged issues pertaining to women, censorship, etc.  The City of Toronto dedicated the space to her in 2005.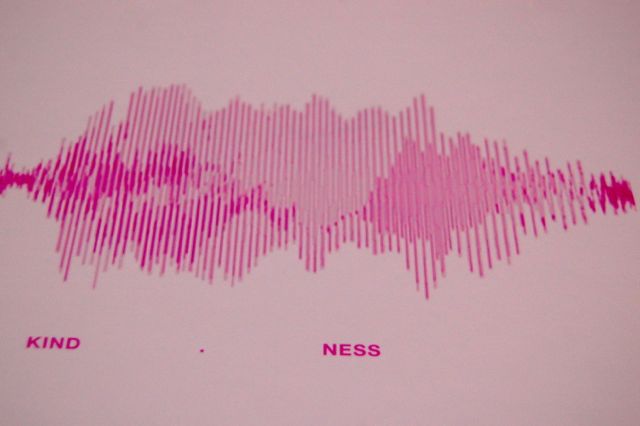 Here, one would find a reflecting pool, trees, and rubberized surfaces within the park's six zones.  Instead of green grass, there is bright pink Ure-Tech to cushion the play areas.  The inspiration behind the landscape design was a quote from one of Callwood's final interviews before her death: "I believe in kindness."  Her touching words from the audio recording (or 'voiceprint,' partially seen in the above photo) are visibly mapped out on the physical site — in the form of an abstract sonic wave.  This special, personalized contour extends throughout June Callwood Park.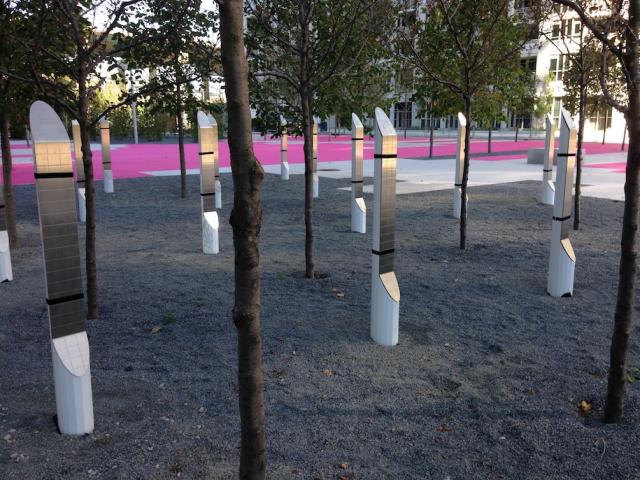 Actual sounds are also integrated into the space via a public art installation called OKTA by Montréal's Stephen Bates and Douglas Moffat.  These sounds are produced when its sensors are triggered by cloud movements.  June Callwood Park is definitely easy on the eyes (and ears).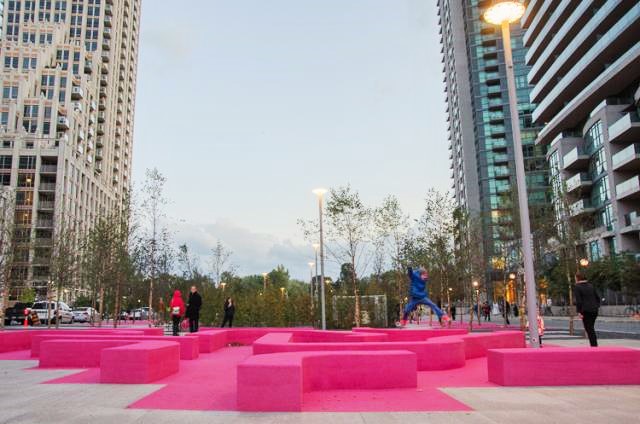 ------------------------------
Image Credits:
gh3, Toronto Gardens, + Stephanie Calvet for Urban Toronto.
------------------------------
References:
City of Toronto. (n.d.). June Callwood Park Now Open. Retrieved from http://www1.toronto.ca/wps/portal/contentonly?vgnextoid=0cf60dbe867d8410VgnVCM10000071d60f89RCRD&vgnextchannel=5b1619f8602a0410VgnVCM10000071d60f89RCRD.