Play and Art seem to be in a never-ending dance of mutual admiration, and public works of art constructed as objects-in-themselves often become places of ludic pastime. With regard to playgrounds, there have been many attempts to combine these two concepts, mostly with specific object references and life-like shapes. A ship, a car, or a
monster
, are popular motifs used by designers of play areas.
Another trend in the creation of outdoor public play areas, is to disregard obvious connotations and metaphors in the designing of the play equipment, by the use, instead, of abstract shapes.
In the 1960's Aldo van Eyke and others focused on Platonic Forms, and creators such as  Axel Nordell pioneered the use of shapes and forms  harder to describe. The heyday of both these trends was the 1960's and 1970's. Nordell and others created what might be called abstract forms.  It would be a mistake to call these forms amorphic, if only because they do have a form. In the field of architecture we see similar forms in what was called in the 1990's, "blob architecture"  or  "blobitecture". This trend, which definitely has its supporters and practitioners, can be found in most countries; although it is rarer to encounter such forms in play structures.
When the Israeli sculptor Sue Ela started making soft and smooth sculptures, she never imagined that these might have a larger and more varied use. But her granddaughter immediately saw the potential of these soft non-aggressive forms and mentioned to her that one of her sculptures resembled a slide.  With this, an idea was born, and Ela set out to implement this concept in her work.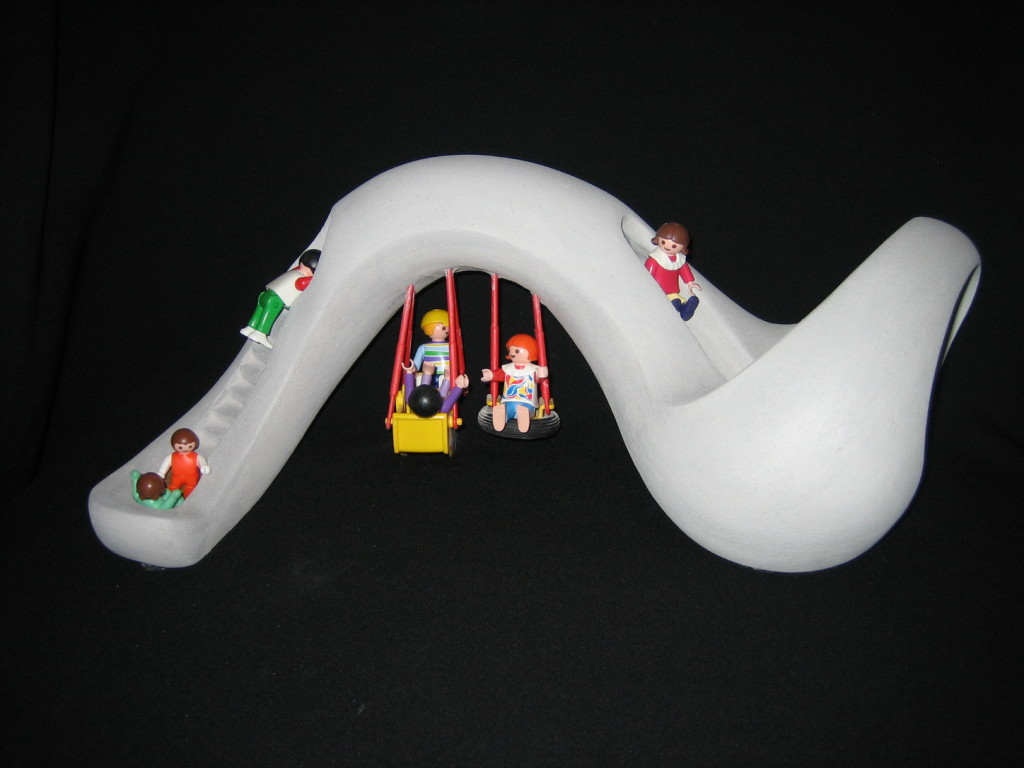 After experimenting with small models and dolls, Ela was commissioned by the City of Modi'in to create unique public play-structures. The park is situated in a valley (the city of Modi'in straddles a number of valleys) and is adjacent to a shopping centre. The play structures themselves are comprised of hollow strip-like forms. They are a striking feature in the landscape for passersby. The apertures through which one passes from one structure to the next gives a moderate experience of spelunking. The experience of crawling from the bright outdoors through a dark area, transition, and then re emergence into the light is one which is an essential part of a successful play structure.
The city of Modi'in has an abundance  of parks and playgrounds; park designers are seriously challenged to make their own distinct contribution.  This playground definitely projects a sense of tranquility and fun.The first aspect one notices is the smoothness of this very tactile structure. A friendly feeling which draws users to it. Its spacing might diminish the parks intensity, but it gives each structure an independent existence. The scale of these custom-made play structures seem to be on a scale fitting and comfortable for young children (ages 4-10). There is a certain ease that one feels when you see kids encountering the structure.
The vegetation surrounding the structures could have been more dense and higher, this would have given the space less of an exposed feeling and more of an intimate sense of enclosure. The surrounding trees should supply much of the needed shade in the future. One can imagine that once the trees are fully grown, glimpses of these structures would be popping up through the branches.  Discovery is one of the aspects which makes for a good part of a city.
The choice of colours is striking, emphasizing the inside and the outside of the play structures.  The forms outlined in colour areas on the ground allow for additional types of games such as tag, stepping, not stepping on the lines and so forth which can also be played in groups.
Sue Ela plans to create more play structures in other places, and is working on one in the form of a dove.  She envisions children of various backgrounds and communities playing together. The dove being both a symbol of peace and having a sort of slide like bodily form.  This project has yet to be realized.
The use of artwork or installations as play structures is a trend that is not always simple to realize. Regulations and costs deter municipalities from encouraging custom-made playgrounds. This playspace, at a total cost to the municipality of 200k NIS, is a happy and culturally enriching addition to the community. Encouraging the use of public artworks for recreational purposes is a positive initiative that municipalities can take; the added value in terms of building a sense of community and expanding fixed perceptions, is well worth the time, effort and investment.