Heritage Museums & Gardens
on Cape Cod offers something for everyone: botanic gardens, a vintage carousel, historic cars, a meditation labyrinth, and a natural playscape called Hidden Hollow (
I wrote about it here
). Art and nature are combined in this summer's "Secret Shelters" exhibit, in which artists were challenged to create a space for observing nature, writing poetry, meditating, or resting. I'll share three of my favorite installations here, and in my next post, I'll talk about the Secret Shelter I built with artist Ross Miller.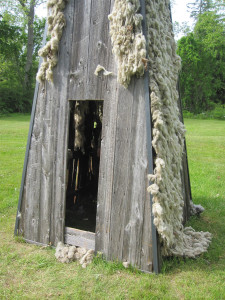 Wing's Spire by artist Nancy Winship Milliken, is a tall pyramid draped in sheep's wool. Two hundred years ago, Heritage was farmland owned by the Wing family, and this evocative sculpture pays respect to the idea of agriculture, as well as its textures and smells.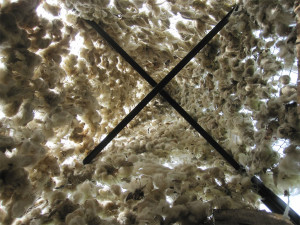 Squeezing through the reclaimed wooden doorway, the heady scent of sheep's wool fills your nostrils. You can imagine farm kids ducking into a dark corner of a barn to escape the sun, or their chores.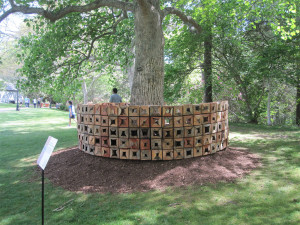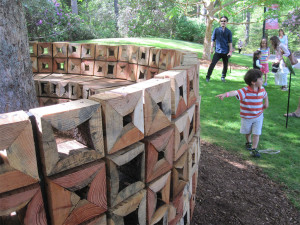 Yugon Kim, an architect and sculptor with the design firm ikd, inverted the typical tree bench by making it face the tree.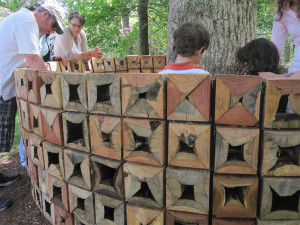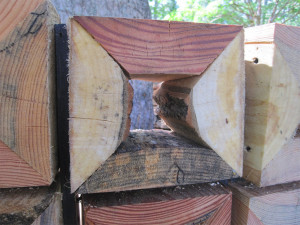 Waste wood from timber manufacturing has been glued and nailed into square blocks, forming a gorgeous structure that prompts climbing, hiding, sitting, lying down, and reconsidering the nature of wood. The sculpture is called Outside-In.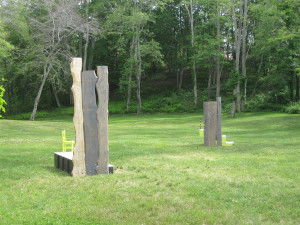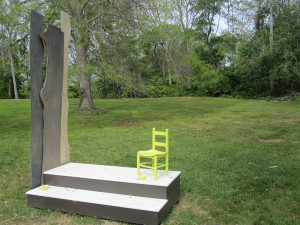 Mary-Ann Agresti's Please Be Seated is a more theatrical work, with two set pieces. Platforms and steps are semi-enclosed by planks (again, reclaimed wood) with peep-holes. A kid-sized chair, a croquet stake, and tiny doors encourage exploration and storytelling. Like Yugon Kim, Mary-Ann Agresti is an architect and an artist, and uses both talents to craft engaging spaces.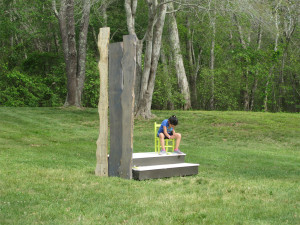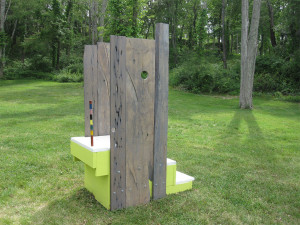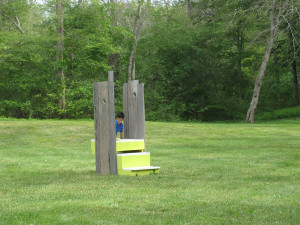 Quotes from Alice in Wonderland contribute to the feeling that you've entered a fantasy world where a peculiar creature might poke its head around the corner at any moment.
"Secret Shelters" includes six other installations, and will be on view through October 15, 2015. More info here. If you like to climb trees in a high-ropes kind of way, check out the Adventure Park at Heritage.